Smart Human
The digital transformation is not only taking place in or on plants and machines. New technologies are also being developed in the area of tools or input devices for employees to support the operators during the work process.


Head mounted displays and virtual reality have long been used for accident analysis to simulate serious or fatal accidents without risks and thus make an important contribution to accident prevention. Recently, many new and further developments have been increasingly tested and used in industrial applications. Especially in warehouse logistics, head mounted displays support employees during order picking by showing useful information on the display. From the point of view of occupational health and safety, such developments must be critically observed. It is important to clarify the following issues:
Is the user protected from explosions of the battery
Does wearing HMDs cause long-term damage to the neck area?
Does wearing of HMDs lead to psychological hazards because the pressure to perform increases?
For occupational health and safety, HMDs in combination with new technologies, such as augmented reality, can be very useful. One conceivable use is to instruct employees on machines without danger and to test their handling.
It would also be conceivable to use it in training courses where employees can virtually practice working with hazardous situations.
https://www.dguv.de/ifa/forschung/projektverzeichnis/ifa5135-2.jsp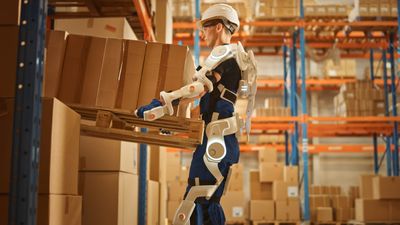 Exoskeletons have been used successfully in medical rehabilitation for some time. Recently, more and more exoskeletons have appeared on the market specifically for use in industrial workplaces. Such systems are designed to provide mechanical support for exhausting activities such as lifting loads or overhead work.
It is very important for occupational health and safety that the effectiveness of exoskeletons is proven before they are used. Here, the exoskeleton must be evaluated specifically for the activity to be performed. Passive exoskeletons (without motor support) usually only transmit the acting force to other body regions, which is the reason why physical long-term effects from wearing an exoskeleton must be taken into account.
https://www.dguv.de/ifa;/praxishilfen/praxishilfen-ergonomie/exoskelette/index-2.jsp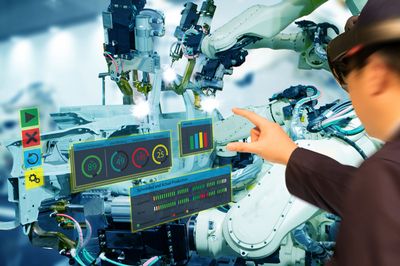 In the domain of HMIs, new possibilities for displaying information or entering data are being developed all the time. In this context, products from the gaming sector are increasingly being used which were not actually designed for industrial use. However, the wide range of applications for these products makes them very attractive financially.
Aspects of ergonomics and functional safety are not the only important factors for occupational health and safety; security also has a major influence. It would be fatal if, for example, an operator made a decision based on altered or falsified information that resulted in an accident, or if a hacker were able to falsify an operator's input.